Tech Salon #8: Online​ Collaboration​ Tool​​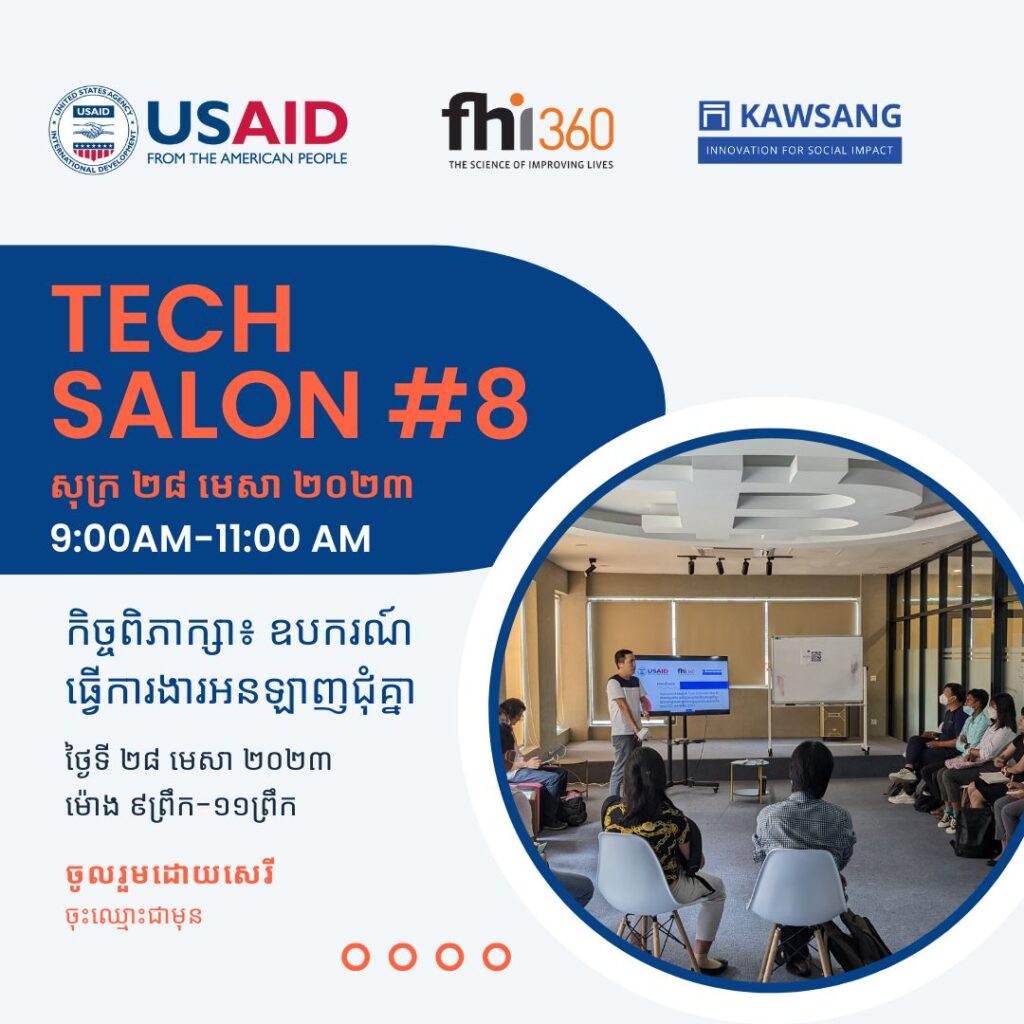 Tech Salon #8 will discuss the topic of Online Collaboration Tools. This session will share the advantages of using the tool to work together online and the disadvantages, as well as how to choose an online Collaboration tool that fits your job.
Monthly Tech Salon invites speakers from civil society organizations and experts to share experiences related to the use of institutional technology to learn from each other and enhance the use of ICT for social work.
​Pre-register: https://forms.gle/8jU5Yb5DdQJ9E3gM8
Other Events
December 20-21, 2022 (Online) and December 26, 2022 (Physical)
Full-day
Phnom Penh (TBC)
Training opportunity on "Data Visualization and Storytelling" for citizen journalists, media practitioners, CSOs, and indigenous youths is coming! Open Development Cambodia (ODC) is pleased to announce a three-day training from December 20-21, 2022 (Online) and December 26, 2022 (Phnom Penh). This training is supported by USAID Cambodia through FHI 360. Interested candidates may register at: https://bit.ly/3US9PAv Deadline of application: 28 November 2022.
11-12 September 2023
08:00 AM - 05:00 PM
The NEP Third National Conference aims to address the knowledge gap regarding policyimplementation and local targets of SDG4 and TES Commitments and will bring together civil society, development partners, and government actors, to discuss how all education sector stakeholders can participate in transforming education, systems strengthening, and education sector collaboration in the Cambodian context. Registration: https://questionpro.com/t/AVgOrZzEfA Full program in PDF: Download
04 July 2023
8:00 AM - 05:00 PM
June 23, 2023
The training course aims to: Raise awareness of the cluster member on cyber security as well as digital securityincluding password management, safe internet browsing, email security, and mobilesecurity. Enhance the understanding of data, data standards, and interactive visualization.