Fundamentals of Brochure Design
At the 11th Tech Salon, we will discuss the basics of designing brochures for civil society organizations to advertise on social media using Canva tools.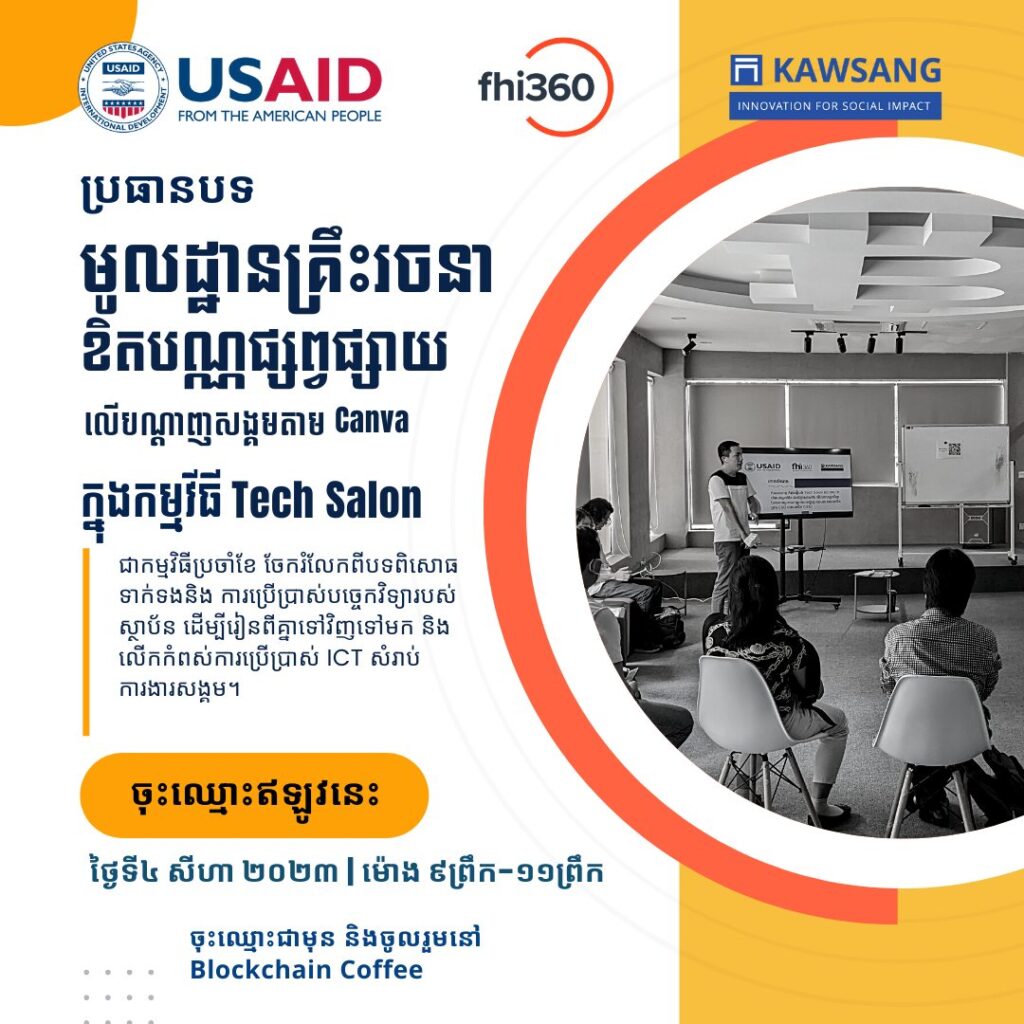 Registration: https://tinyurl.com/2sx32vu8
Other Events
December 20-21, 2022 (Online) and December 26, 2022 (Physical)
Full-day
Phnom Penh (TBC)
Training opportunity on "Data Visualization and Storytelling" for citizen journalists, media practitioners, CSOs, and indigenous youths is coming! Open Development Cambodia (ODC) is pleased to announce a three-day training from December 20-21, 2022 (Online) and December 26, 2022 (Phnom Penh). This training is supported by USAID Cambodia through FHI 360. Interested candidates may register at: https://bit.ly/3US9PAv Deadline of application: 28 November 2022.
24 April 2023
1:30 - 5:០០ PM
Banteay Srei (BS) is pleased to invite cluster members of the Civil Society Support (CSS) project to the upcoming cluster convention meeting on gender inclusive. Both national and sub-national level participants from Battambang and Siem Reap are also invited. Objectives: To follow up on the discussion of the proposed activities from the last cluster meeting by Banteay Srei and update how the progress of each activity; To share the Term of Reference of cluster members to the NGO network; To introduce the concept of IDEASPRIN and its opportunities.
8-14 January 2024
8:00 AM - 5:00 PM
Faith For Our Planet, in partnership with Duke University's prestigious Divinity School, has launched an exciting new program for climate conscious youth leaders from around the world. Whether you are a religious leader, a climate activist, an early career professional in a faith-based organization or a recent graduate who's just starting out – as long as you're eager to learn how to mobilize faith communities to combat climate change, we've got you covered. For more information: http://faithforourplanet.org/youth-fellowship/ For registration: https://rb.gy/40ezv